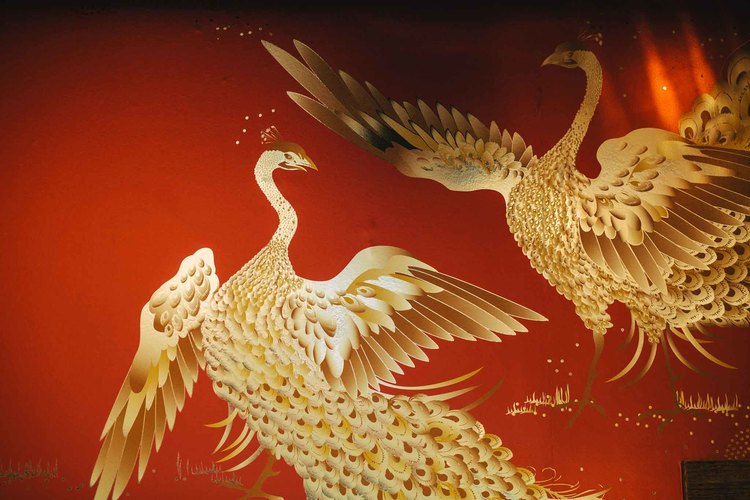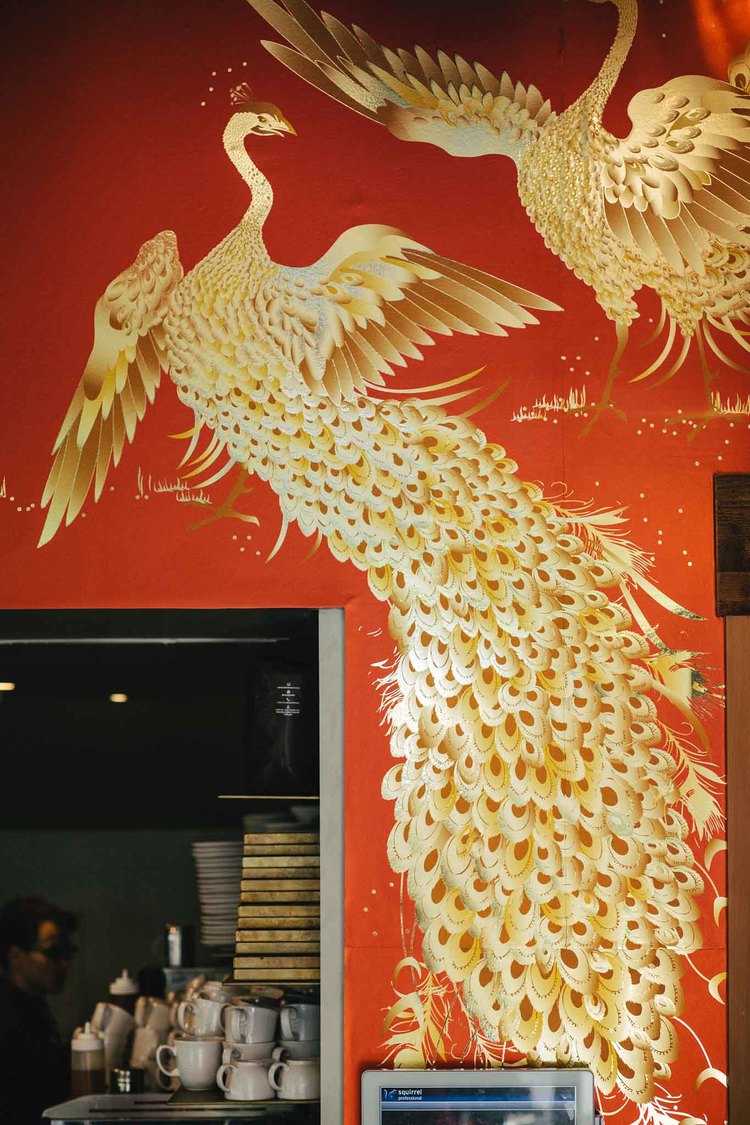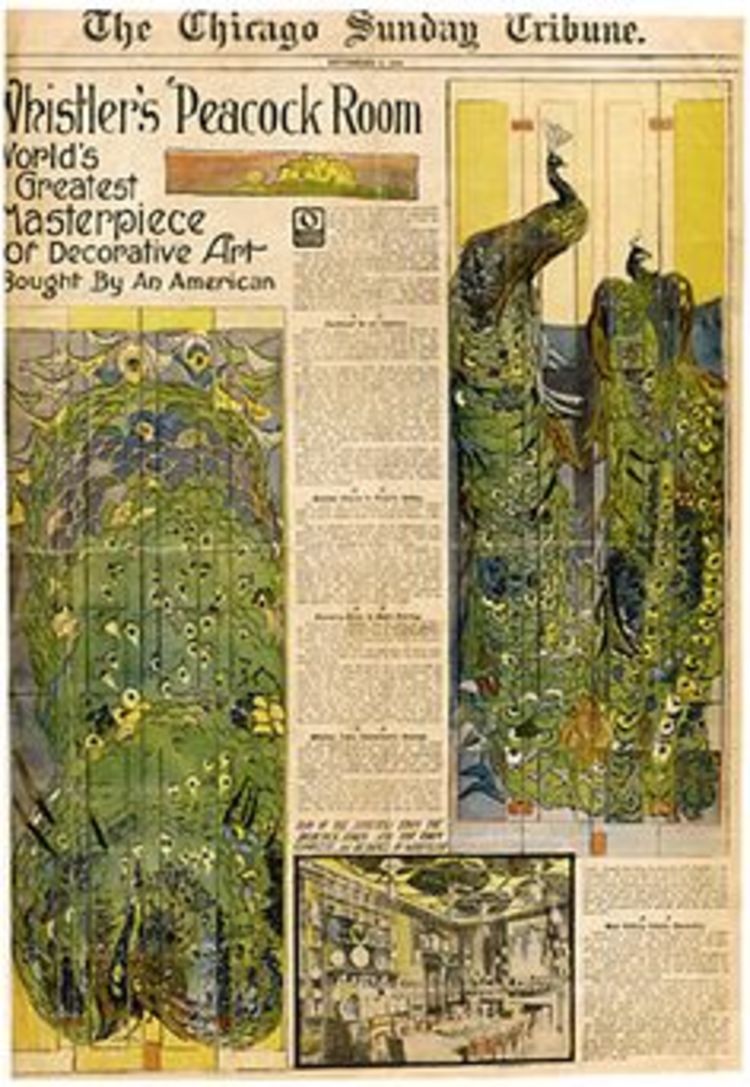 Long symbols of integrity, beauty, protection and watchfulness, the peacocks epitomize Chambar's design aesthetic and business values. They also serve a more practical purpose. Like their ancestors who roamed the palace grounds of Eastern emperors, they guard the restaurant— especially the doorway to the wine cellar, which we like to think of as our very own treasure room.
The custom-designed crimson wallpaper between the bar wine station and the dining room features two gleefully gilded and oversized peacocks. The fowl pair was illustrated by the owners' dear friend Robyn Huth who painstakingly recreated using multiple overlay techniques. The design was then printed on gold paper by Rollout Custom Wallpaper, a Vancouver-founded company now based in Toronto.

Inspired by the famous "Whistler Room," the Peacocks are an homage to what is widely considered to be the ultimate masterpiece of Victorian decorative mural art. A stunningly paneled room, resplendently covered in hand-painted golden peacocks, the Whistler Room was nonetheless at the centre of an artist-and-patron scandal second only to that of Michelangelo and the Pope. We loved its story of passion and defiance.
In 1876 London, a wealthy industrialist hired prominent architect Thomas Jeckyll to create a dining room in his Kensington townhome to showcase his impressive collection of Chinese porcelain. When Jeckyll fell ill, American artist James McNeill Whistler was hired to fill in.
And "fill in" he did. Rather than stick to the plan, Whistler "improved" it, over-glazing a series of golden peacocks onto hugely expensive, 6th-century leather wall panels that had once belonged to King Henry VIII's first wife. When poor Thomas Jeckyll saw Whistler's "improvements," he had an apoplectic fit and later died, quite insane.
The owner, meanwhile, was furious and refused to pay Whistler. So the artist broke into the house and painted two final, fighting peacocks to immortalize the conflict. When the owner demanded an explanation, true to his artistic temperament, Whistler replied:
"Ah, I have made you famous. My work will live when you are forgotten. Still, per chance, in the dim ages to come you will be remembered as the proprietor of the Peacock Room."
In the end, Whistler was wrong. The industrialist was forgotten, sure, but the room became known not as the "Peacock Room" but as the "Whistler Room" (never in the presence of the original homeowner, however).
It's a story of passion, vision and doing things your own way, and we like to think it's had a little influence on the way we do things at Chambar.
The "Whistler Room" has been on display at the Smithsonian Museum in Washington, D.C., since 1923 and is currently being refurbished. It's scheduled to re-open to the public in the summer of 2017 if you're ever in the American capital.
Or, you can just give our peacocks a quick nod as you walk from the bar to the dining room.