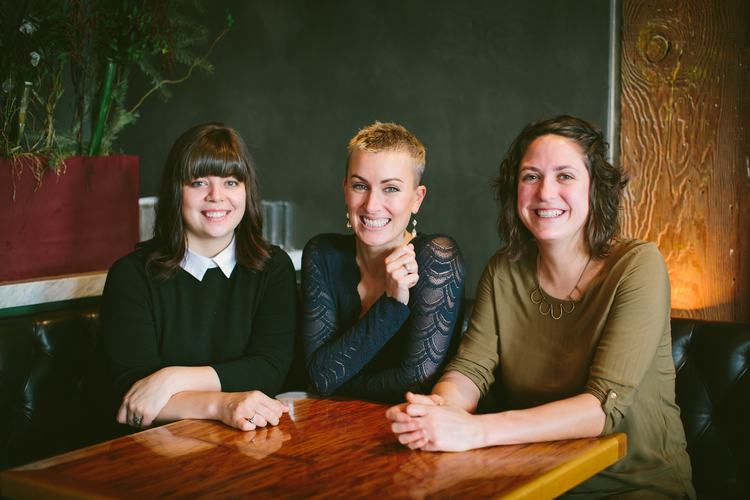 Things are very different at Chambar, where the cellar of some 350 labels is run by not one woman, but three.
by Andrew Morrison // It wasn't that long ago that restaurant wine programs stuck close to well established or otherwise popular labels and organised them into a rigid dichotomy of New World and Old World. To help steer guests toward making decisions that wouldn't embarrass them, such lists were sprinkled with the fairy dust of the comfortably familiar. To invest in wines that no one had ever heard of before was considered too risky an exercise, so the public – through an accidental conspiracy of restaurant owners, managers and sommeliers – were kept in the dark about the astounding variety that lay just beyond Napa Cab, over the Super Tuscans and around the corner from Aussie Shiraz.
It's not clear how such safe and unimaginative wine lists – often determined by a holy writ "points" system that clung to the tastes of a powerful few – have stayed so prevalent for so long. But one thing they share in common – beyond their ubiquity – is that their curation and management has almost always been the exclusive preserve of men.
Of course the strong pull toward the herd is hardly gender-specific, but the wine world is nothing if not a collective dictatorship of perceived expertise, where a subjective foot set wrong is consequential to ego and, potentially, career. If a restaurant buys wines that they can't sell to their customers, heads will roll. And so, unsurprisingly, risks are seldom taken and corners are often left unturned. It's not that men are unadventurous by nature. Far from it. But they have dominated the wine trade since its beginnings (to this day, more than 80% of Master Sommeliers are male), so they take inadvertent responsibility for this status quo.
Things are very different at Chambar, where the cellar of some 350 labels is run by not one woman, but three. Kaela Augustine, Laura Starr and Maude Renaud-Brisson share responsibility for the restaurant's wine program, the foundations of which can be attributed to former sommeliers Jason Yamasaki and Robert Stelmachuk, with wisdom from Terry Threlfall. (To give you an idea as to where it sits in the pantheon of local wine programs, it recently received a Platinum Award at the Vancouver International Wine Festival, an achievement shared with just five other establishments.)
Kaela, Laura and Maude play to their individual strengths while working collaboratively amongst themselves. Their collective mandate is the same as it is for most sommeliers: costs come first. Beyond that, however, it's a species entirely its own. "We decided to give them the freedom to be creative and adventurous," co-owner Karri Schuermans says of when the decision was made to let the all-female triumvirate take control of the cellar. "Wine should be a teaching moment," she explains. "Exploration should be encouraged. So I said, 'Let's take diner expectations and fuck with them a little bit. Let's fight that uncomfortable fight against laziness. Let's try to change the way people drink wine'."
Kaela is the gatekeeper who controls this broad inventory. She is, as Karri puts it, "very Chambar" in that she has no problem challenging hierarchies, instinctively deflecting to originality and always questioning traditional processes, including that which determines how and why new wines land on the list.
Every label gains entry to Chambar's cellar by way of meritocratic debate. Conversations are constantly ongoing at the restaurant and in text message threads. There are no sacred cows. Maude takes point on British Columbian wines, which is no easy thing considering the diversity of the province's varietal ambitions and reach, while Laura – a natural communicator with a teaching background – trains the staff on every new acquisition at regular tastings. Paid equally, they operate as a team.
The results of the experiment are written into the wine list, bottle after bottle, a creative curation and success. While there is some varietal and regional separation, its organisation is loose and approachable, informative and fun. BC wines are singled out in the same celebratory spirit that explores "Planet Chardonnay" and acquaints us with grapes that are woefully undersung. Sparkling wines – anchored by Champagne – are catalogued with bubbling enthusiasm for methode and beyond, from delicious Australian and Argentine efforts to bright pinks and Lambrusco Rosso. (At the time of writing there is even a Méthode Classique' Brut from Nova Scotia's Gaspereau Valley.) It is as diverse and carefully chosen a cellar as Vancouver has ever seen, and it was built to pair with the restaurant's award-winning cuisine, not to suit the fixed tastes of a shepherded majority. Who knew a wine list could be so refreshing?
Bending from the norm has always been the Chambar way, and at the root of all its departures to date has been this same sincere love of fun. This is made obvious on the wine list to even the most casual wine enthusiast, but it's especially evident at the table, interacting with either Kaela, Laura or Maude, the very people who maintain and truly treasure it. The threesome is really just getting started (Maude is still in her first year at the restaurant), so raise a glass to their shared efforts and affections for good wine. May it inspire others and continue for the long haul to the very last drop.

MARCH 8, 2017